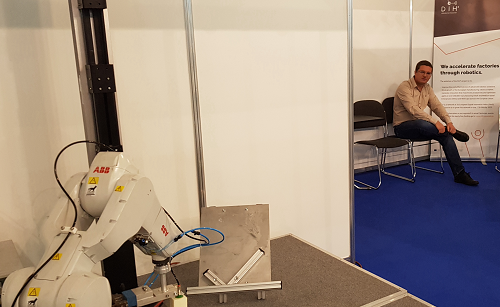 ← back to LER stories
Jan Piwiński
Tell us a little about your background.
I graduated in Economics from the Warsaw University of Life Sciences before completing a postgraduate degree in Computer Sciences and have been working at PIAP for over 13 years now. PIAP is the Industrial Research Institute for Automation and Measurements based in Warsaw and in my role, I have been mostly involved in research projects covering many different sectors. A big part of my daily routine is focused on fund raising. I maintain close contacts with industrial and manufacturing SMEs trying to help them find new funding opportunities at both national and European level. It's important that they know what is needed to succeed in the funding process so we're always looking at new opportunities and then helping the SMEs draw-up roadmaps and building business plans to support their case. I joined the DIH² project shortly after it began, and I'm also involved in other Horizon Europe projects that are focused on helping industry on the digital transformation journey.
What is the state of the robotics industry in Poland today?
The demand for robots in production in Poland is increasing every year, but that increase remains relatively low. The International Federation of Robotics defines robot density as the number of robots per 10,000 employees in industrial plants and, according to IFR's 2020 annual report on robot density, Poland stood at 52 against a global average of 126. And across the border in the Czech Republic, that number is 162 so not only is Poland lagging behind major industrial countries but we're also performing poorly against our near neighbours. We frequently hear it said that "Poland is the assembly line of Europe" but a lot of those manufacturing installations are large multi-national operations in sectors such as automotive. Domestic companies often work as sub-contractors to the global supply chain, and they are not responsible for sourcing the equipment. In fact, in many cases, the entire production line is imported into Poland. At a purely local Polish SME level, robot usage remains quite low.
That difference versus the Czech Republic is huge.
It is. Partly it is a question of demographics – the Czechs have a smaller, more concentrated population, but I believe that it is primarily about the access to funding which is easier and more straight-forward in Czechia and this is something we need to improve in Poland if we are going to raise our competitiveness.
One of the key goals of DIH² was to fund Transfer Technology Experiments in agile production. You oversaw Contra2.0 which was conducted in western Poland. Can you tell us a little about it?
The consortium consists of Acord, a manufacturing SME based in the timber sector, and ITTI, a technology provider located in Poznań. Acord has around 100 employees and its production focuses on summer houses, sheds, and saunas. In the last few years Acord has been investing extensively in its production facilities and wanted to facilitate automated data collection from its machines to optimize production flows. ITTI had already developed a system to support warehousing process in Acord and the goal of Contra 2.0 was to provide enhanced capabilities by using the FiWare platform to integrate an old Kuka robot and an automatic stacker machine which could then provide easy and accurate data collection for production process monitoring. Additionally, this would have the added benefit of extending the lifespan of both machines. The project started from a very low TRL - neither machine was IoT-enabled (not an uncommon situation in manufacturing SMEs) - but one of the main results was that we enabled new smart production services. Acord now has significantly enhanced performance monitoring of its machines while its shopfloor workers can now receive notifications directly from the system and are able to remotely configure the machines using an App.
Give us some insight into how you brought Contra2.0 together.
I really didn't have to do very much! ITTI was already in PIAP's ecosystem so that bit was easy and, as we discussed already, Acord was an established ITTI customer. To promote the aims of DIH² we organised a robot day event and there ITTI presented an overview of the warehouse management system that they had previously developed. We then worked on an idea that the warehouse system could be integrated with robots that Acord had acquired and expanded that idea to fit the DIH² project scope.
What did you learn during the Contra2.0 process?
Not surprisingly, the pandemic made life pretty difficult, as I imagine it did for many of the other DIH² experiments. We couldn't meet on site at the production facility, so we all had to learn to be flexible – agile even. I learned new skills, such as developing automation roadmaps for a manufacturing company and conducting digitization audits. There were many, many questions - and even some answers! And our timescale was short – just 10 months from start to finish – so we had to learn to manage time and resources very efficiently.
What is the future for Contra2.0?
Overall, the market in Poland is not easy. ITTI has tried to identify manufacturing companies that could benefit – companies that have similar production profiles and have a similar TRL status – but it's very tough to find clients in Poland that are willing to make the investment. We work closely with organisations such as the Polish Agency for Enterprise Development to help activate manufacturing SMEs and although we are making progress, the success rate remains stubbornly low.
This network brings together a diverse and wide-ranging membership – both geographically and the sectors that the partners operate in. What have you got out of the network thus far?
We are always looking to forge closer cooperation on research projects in Central Europe, but it's hard to find suitable prospective partners. Despite our proximity, it's hard to get to know other organizations, but DIH² has opened doors for us - we now have a ready vetted network, and those network members can in turn introduce us to others. Personally, this was my first-time being part of a consortium of this scale and even though I joined after it had started, it was immediately obvious that the network offered huge potential. We also have this short mobility program that enables members of DIH² to temporarily move to another partner and learn how they do things - this is something quite unique.
What would you say to other organisations that are considering joining the DIH² Network?
I really don't see any reason why they wouldn't join. DIH² has a strong identity and you'll connect with great partners and experts in their respective fields. We have built a community built on knowledge and technology which all new members will have access to. And as the world opens back up, we're going to be present at events around Europe - such as ERF 2022 - in Rotterdam where we can at last meet in person and reengage on building new partnerships, exploring new business opportunities, and learning about new funding options.
As we emerge from the past two years of restrictions and lockdowns, what do you think we have learned that we can apply over the coming years?
Well unfortunately, it's possible that this will not be the last major pandemic that we experience in our lifetimes. If we look at the restrictions that companies were forced to operate under, it simply enhances the argument for increased robotization. Robots provide a safe and stable production environment and reduce the risk of downtime. This is an ideal time for manufacturers to invest to ensure that they put themselves in a better competitive position through automating basic processes while at the same time creating a better skilled workforce ready to meet future challenges.